cooperation
Since 2012, perte de signal has collaborated with institutional partners and artistic communities in various cities around the world. Artistic and cultural cooperation is forged through creative, participatory workshops, taking a collaborative approach to practices that draw on both new and existing technologies.
These productions are jointly developed by artists from the Centre and from the host community in a spirit of sharing and openness. As such, our international cooperation projects are exercises in solidarity and collaboration.
Works are inspired by the places in which they are created and build on local resources and values. In addition, perte de signal provides open technological solutions (DIY, open software, open hardware, etc.) that are introduced to users via co-creation workshops, thereby fostering knowledge transmission and technological independence. In this cross-cutting approach, experiences and good practices are shared between different cultures, ensuring the lasting impact of these initiatives.
From Montréal to Casablanca, artists working with free software are able to develop, use, and share their tools while reflecting on their role in the practice and aesthetic of digital arts.
Through their contribution, the perte de signal artists and initiatives create a theoretical and artistic context in which a common understanding of digital arts can be shared, thus enriching the practical, aesthetic, and political aspects of the culture surrounding free software and digital arts practices. As well as uniting technical and artistic aspects, our international cooperation projects demonstrate a commitment to a free and open Francophone digital culture.
2016 | Afropixel, Dakar
2016 | E-FEST, Tunis
The Centre's artists went to Dakar and Tunis to hold the LIBREMAPPING collaborative creation workshop there. The cooperation initiative took the form of a six-day residency with 10 local artists, in order to develop collaborative light projections which were revealed at the closing evenings of the two events.
The participants were invited to invest the urban space through the use of MAPMAP a free mapping software developed by the Center, in partnership with Kër Thiossane (Dakar) and OIF (Paris).

2015 | Port-au-Prince, Haïti
Following an invitation from Chantiers du Sud and its artistic director Giscard Bouchotte, the centre's artists stayed in Haiti from November 19 to 30, 2015 to collaborate with Haitian artists on an installation for the 2nd edition of the Nuit Blanche de Port -au-Prince presented on the forecourt of the Fokal cultural center.
SONDES :: HAITI was supported by MRI, MCCQ and CALQ.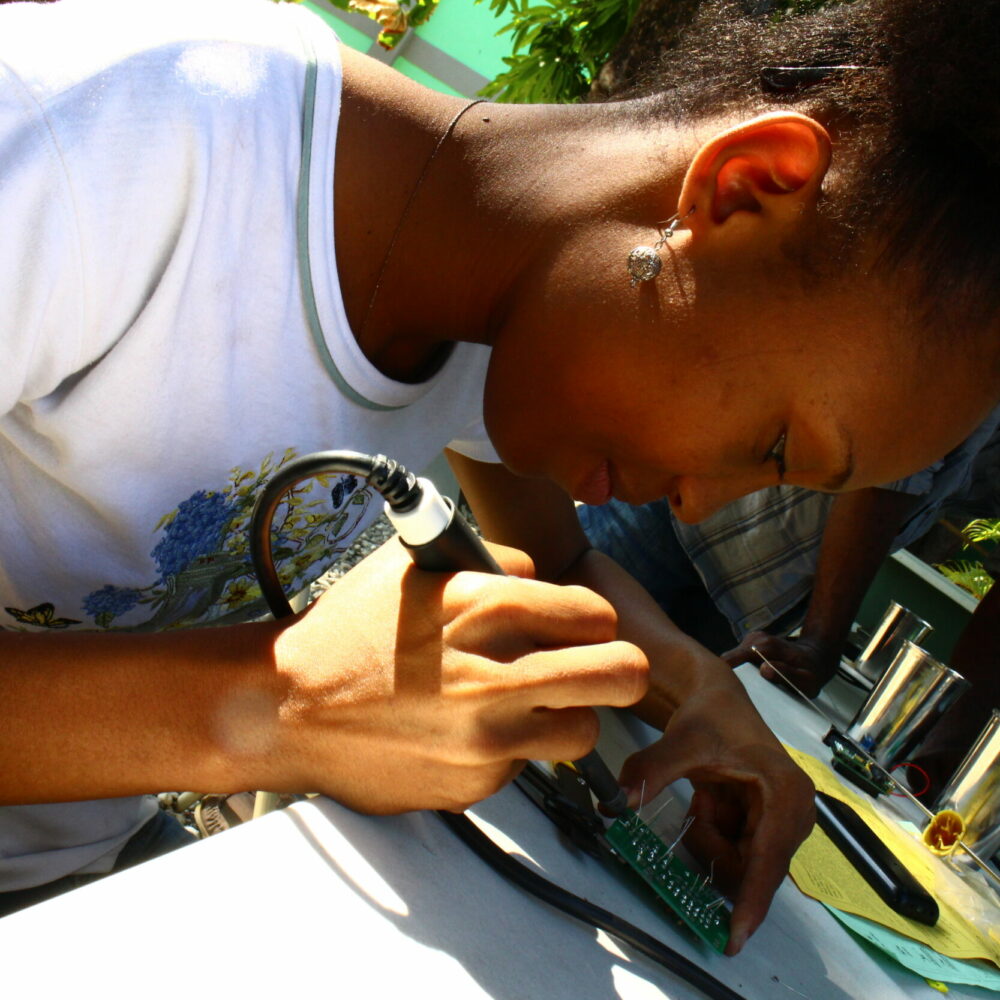 2013 | E-FEST, Tunis
2014 | FIAV, Casablanca
2014 | Kër Thiossane, Dakar
As part of the SONDES project, Quebec artists have developed creative, exchange and collaboration activities with local artists in Tunis, then in Casablanca and Dakar.
The SONDES initiatives were supported by MRI, MCCQ, LOJIQ and CALQ.